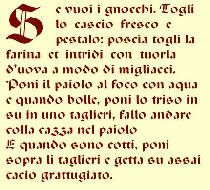 "If you want gnocchi" reads the recipe, "take some cheese and mash it, then take some flour and mix with egg yolks like if you make dough. Place on the fire a pot of water and when starts boiling place the mixture on a board and slide them in the pot with a spoon. And when they are cooked place them on the plates
and top them with a lot of grated cheese"
Gnocchi (pronounced NYO-ki) is the Italian word for dumplings; in Italian, gnocchi is the plural of gnocco, which literally means "lump"... Although the dish is Italian, the word comes from a Germanic word for a knot (as in wood), possibly because of its short, squat shape. Gnocchi are often listed among pasta dishes, although gnocchi has different ingredients and mode of preparation. Dumplings may be any of a wide variety of dishes, both sweet and

savory

, in several different cuisines.
Atkin's
Low Carb
Gnocchi
1 pound ricotta cheese
1/2 pound cheddar cheese
4 eggs -- beaten
2 tablespoons soy flour
1/2 pound butter -- 250g no salt, melted
1/2 cup grated parmesan cheese
1 pinch salt, nutmeg and cayenne pepper
Push cheese through a fine strainer (easy way is with hands) Beat eggs into mixture with electric mixer. Blend in soy powder and seasoning.
Refrigerate for 1 hour. Bring large pot of water to rolling boil.
Lower heat to simmer, drop mixture into water by teaspoon full (they will drop to bottom and then rise to the top) Allow gnocchi to simmer on top of water for about 20 mins. Remove gnocchi carefully with slotted spoon and allow to drain on absorbent paper.
Melt 1/4 lb butter in large baking dish. Place drained gnocchi in dish, cover with remaining butter and Parmesan cheese.Gnocchi may be served immediately or kept warm in low oven or refrigerate and re heat.
Per serving: 478 Calories (kcal); 44g Total Fat; (81% calories from fat); 19g Protein; 3g Carbohydrate; 218mg Cholesterol; 579mg Sodium
courtesy of Atkins Diet Cook Books
(Carbquik) GNOCCHI
2 c. Carbquik (
low carb
flour alternative)
2 c. Ricotta cheese
2 eggs
Put Carbquik , Ricotta, and eggs in a mixing bowl, and with a large spoon blend ingredients into a large ball. Place dough on a floured board and roll into a ball again. Add more flour, if necessary, to prevent sticking. Roll small amounts of dough, forming cigar-sized strands. Cut each strand into 1 inch pieces. With your knuckle or index finger, form a dent in the center of each.
Drop into lots of boiling water (they will sink) and cook about 8-10 minutes. When the gnocchi float to the top of the boiling water they are done.
Drain and place on a large platter. Top with
low carb
marinara sauce, grated cheese, and chopped fresh basil.
brought to you by your friends at http://www.thelowcarbgrocery.com/